Human Productivity Lab – Case Study – Deloitte
Deloitte provides industry-leading audit, consulting, tax, and advisory services to many of the world's most admired brands, including 85 percent of the Fortune 500 and 6,000 private and mid-market companies. The company's visual collaboration program connects 120+ practice offices, 60+ project offices, almost 200,000 mobile devices, and supports over 50,000 minutes per month of videoconferencing connecting tens of thousands of practioneers. The company somewhat uniquely operates Deloitte University, its own dedicated 700,000 square foot training facility on a 105-acre campus in Westlake Texas, a dedicated IT operations campus outside of Nashville, and the recently inaugurated the 1st tower of a new three-tower 36,000 employee campus in Hyderabad, India. The Human Productivity Lab has consulted for Deloitte on a variety of project. Here are a few examples:
Deloitte – TEKculture/Modern Meetings Magazine 2018-2019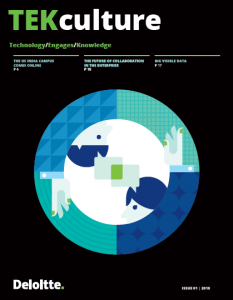 TEKculture/Modern Meetings Magazine – Inaugural Issue – The HPL helped Deloitte communicate the strategy behind the visual collaboration program to internal managers and staff, the executive leadership and member firms. The Lab "ghost edited" the publication, helped with article creation and development, helped ghostwrite a number of articles and organized an executive roundtable of Fortune 500 IT thought leaders from Walmart, Shen, Milsom & Wilke, Deloitte, and Howard & Associates.
Deloitte – Next Generation Collaborative Tools – 2017-2018
In 2017-2018 the Lab helped Deloitte evaluate next-generation technologies for visual collaboration, telepresence, videoconferencing, video walls, and interactive whiteboards. The lab evaluated over three dozen technologies and four dozen vendors to create an overview of Emerging Technologies with the ability to improve Deloitte's collaborative capabilities or deliver operational efficiencies in the delivery of collaboration products and services to Deloitte's practioneers and member firms. The engagement included in-depth interviews with Deloitte's existing and potential technology vendors to understand their technology and integration road maps. The final deliverable reviewed and made recommendations in the following categories:
Optics and Automated Camera Control

Including: Mechanical tracking cameras, digital tracking cameras, and telepresence eye-line cameras and Image Improvement

Interactive Whiteboard and Visualization

Including: Large format displays, interactive whiteboards and interactive video walls

Room Compute and Wireless Data Sharing

Including: Wireless data sharing and both basic and complex room compute.

UI/UX and Control over IP

Including: Customized control and interactive whiteboard

Executive and Practioneer – Mobile and Desktop

Including: 4K and software-enhanced imaging

Collaboration and Productivity Applications

Including: Visual project management, team messaging, and cloud-based productivity applications

Video Network Operations Center (VNOC) and Video Infrastructure

Including: On-premise and cloud-based video infrastructure, usage analytics,

Video Technologies

Including: Codec enhancements (H.265, AV1, Thor, and VP10) connection improvements, and APIs