Ashburn, July 23rd, 2019 – The Human Productivity Lab, a consultancy focused on using visual collaboration to improve organizational productivity and business communications, has relocated to New Hampshire as part of the Free State Project, an effort which has organized over 24,000+ voluntaryists and libertarians who are migrating to the State for greater personal and economic freedom. Unlike the vast majority of US States where socialism, bureaucracy and "nanny-state" government are destroying freedom and individual liberty often with actuarially unsustainable taxation and spending, New Hampshire is unique in reducing taxes, rolling back laws/regulations, and eliminating wasteful bureaucracy. The state is proving that economic and individual liberty leads to economic prosperity with New Hampshire boasting no state income tax, no state sales tax, 11th lowest total tax burden in the nation while consistently ranking in the top six states for highest median household income while simultaneously holding titles for the lowest poverty rate and lowest childhood poverty rate. Just this month CNBC's Top States rankings put New Hampshire #1 for business friendliness and ranked it in the top ten for both quality of the workforce and quality-of-life.
"New Hampshire is proving that economic freedom and individual liberty produce harmony and prosperity for the widest number of individuals with a fraction of the violence, taxes, laws, regulations and redistribution of other US State governments." Human Productivity Lab founder and president Howard Lichtman remarked about the company's move. "We are excited to work with the dozens of pro-freedom business, political and social organizations that are unique to New Hampshire to further roll back overreaching, intrusive government to maintain and strengthen: The New Hampshire (Liberty) Advantage"
About Human Productivity Lab

The Human Productivity Lab is a consultancy focused on visual collaboration and agile methodologies. We help organizations develop the strategies and choose the right technologies to improve their ability to collaborate internally and externally with partners, vendors and clients… at the speed of light… Unlike many consultants who focus strictly on technology, we take a more holistic economics and human psychology-based approach focused on how value is created in organizations, how humans learn and come to insight on complex problems, and then help design or adapt the right technology strategy around a strategy to improve comprehension, retention, and "time-to-insight" across the organization.
We help with technology research, due diligence, ROI modeling, future-proofing investments, meeting room technology and templates, and financially modelling investments.
Finally, we offer training and adoption on collaboration tools, applications and Agile methodologies including Scrum for project management.
About the Free State Project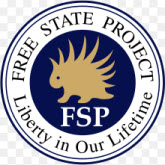 The Free State Project (FSP) is a mass migration of more than 24,000 people (and growing!) who have pledged to move to New Hampshire and advocate for individual liberty and limited government. By concentrating voluntaryists, libertarians, and other pro-liberty advocates in a single state, we are maximizing our impact as activists, entrepreneurs, community builders, and thought leaders. Participants signed a pledge vowing to move to New Hampshire within five years when the total membership of the group hit 20,000. That number was reached in 2016 and every week FSP "new movers" arrive from around the country and world. In 2018 over 1300 people pledged to move within five years and the organization boasts over 5,000 members already "on-the-ground" in New Hampshire. Free State Project members have moved or created over 120+ businesses and invested over $250M in real estate. The organization has elected over 45 Free Staters as State Representatives with 25+ currently serving and hosts over 650 meet ups annually in every corner of the state.